Among other factors, a good mouthwash aids in optimal oral health. While your teeth make up only about 25% of the surfaces in your mouth, another 75% include gum tissue and cheek tissue, the roof of the mouth, the throat, and tongue. These surfaces are best cleaned with an antiseptic mouthwash. As we often say here at North Raleigh Periodontics, periodontal disease is caused by bacteria in the mouth. Antiseptic mouthwashes work to kill these bad bacteria, while promoting good bacteria.
Although many good mouthwash brands are available, Listerine is one of the only mouthwashes approved by the ADA (American Dental Association) and has stood the test of time by being on the market for over 100 years. Several varieties of Listerine are available, depending on the needs of patients.

1. Original and Cool Mint Listerine
Who is this for? These mouthwashes are wonderful for patients that do not mind the light tingle of an alcohol containing mouthwash.

They have both been proven to, "kill germs that lead to bad breath, plaque, and gingivitis for 24 hours". In fact, according to Listerine, these products, "reduce 52% more plaque than brushing and flossing alone", for a 100% clean mouth.
2.  Listerine Cool Mint Zero Alcohol Mouthwash
Who is this for? We recommend this formulation for patients that battle an alcohol addiction, patients with dry mouth, patients that have suffered from oral cancer, or patients that take multiple oral medications.

This mouthwash packs all the punch of Original Listerine, but without the alcohol tingle. In fact, it is the only alcohol-free mouthwash that has been proven to kill the vast majority of germs in the mouth.
3. Listerine Ultraclean Cool Mint and Fresh Citrus Mouthwash
Who is this for? Patients with a moderate amount of tartar (calculus) build upon their teeth.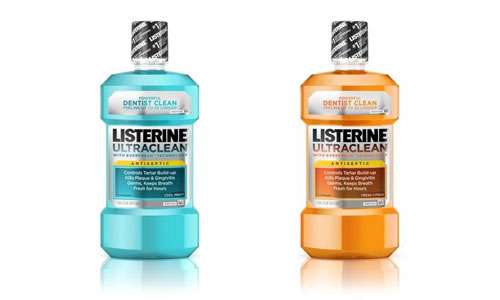 These mouthwashes are one of Listerine's best sellers! This is the only leading mouthwash on the market with zinc chloride, an ingredient that controls tartar build up on the teeth. Tartar, or calculus, is dead bacteria that has calcified on the teeth. This is what we remove when you come in for a cleaning. Listerine Ultraclean Mouthwash will, not only kill live bacteria in the mouth, but prevent the buildup of this dead bacteria.
4. Listerine Total Care
Who is this for? Patients with receding gums, a number of crowns and fillings, or a history of "soft teeth" and cavities.

This mouthwash packs all the punch of the Listerine formulations mentioned previously, but with the added benefit of fluoride. Fluoride, a naturally occurring mineral, is used to strengthen teeth and prevent cavities. For many of our patients with receding gums, the roots of their teeth are exposed. The minerals on these roots are not as thick as the minerals on the crown of the teeth. This is why we are now offering a fluoride treatment in our office. This mouthwash can be used as an adjunct at home to give your teeth the added boost of fluoride they need every day!
5. Listerine Naturals Herbal Mint Antiseptic Mouthwash
Who is this for? We recommend this rinse for patients who want a more natural oral care routine.

Many Listerine Naturals Herbal Mint Mouthwash does not contain any artificial sweeteners or dyes and boasts a 99% natural formulation. The essential oils in this product work to kill bacteria and freshen breath, without the burn of alcohol. Many of our patients are looking for natural products to strengthen their smile.
If you have questions about mouthwashes in general or about which mouthwash is best for you, be sure to ask Dr. Singletary or our hygienists at 919-518-8222.
These products can be found at most retailers (Walmart, Target, drug stores, etc.) and on Amazon.